Leah Galant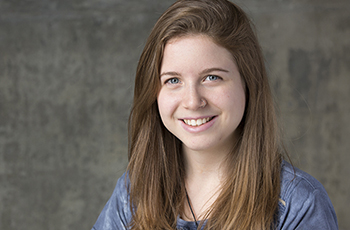 Filmmaker Leah Galant is a 2017 Sundance Ignite Fellow and documentary filmmaker living in Westchester, NY. Leah was named Variety magazine's "110 Students to Watch in Film and Media" while a student at Ithaca College for her work on the SXSW hit, The Provider and Beyond the Wall. Leah was the inaugural Sally Burns Shenkman Women Filmmaker Fellow at the Jacob Burns Film Center's Creative Culture filmmaker program, where she completed Kitty and Ellen. 

Leah's work includes two award winning short documentaries about several remarkable Holocaust survivors which have been shown internationally at numerous Film Festivals, including SXSW, HotDocs and the San Fransisco Jewish FF.
"The documentary films I create provide opportunity for social change through the telling of powerful stories about individuals facing challenging circumstances. Four years ago I met two incredible Holocaust survivors in their 90's who traveled around the world every year as part of a women's coping group. After meeting them, I wanted to share their stories and the positive impact they've had on all who know them. It is imperative to me to document and share these stories as our population ages, especially during a time when our uncertain political landscape bears similarities to the past."
The Provider
The Provider follows the story of abortion provider Dr. Shannon Carr, who travels every week from New Mexico to Dallas in order to perform abortions despite restrictive laws and threats to her safety.
Death Metal Grandma follows 95 year old Holocaust survivor Inge Ginsberg as she attempts to break out as a death metal singer by submitting to America's Got Talent.​
Best friends and Holocaust survivors Kitty and Ellen reflect on the striking resemblance between the contemporary political climate and their past.
A mother and her daughter challenge the media narrative of fear through art. Winner of Sundance Ignite Fellowship.